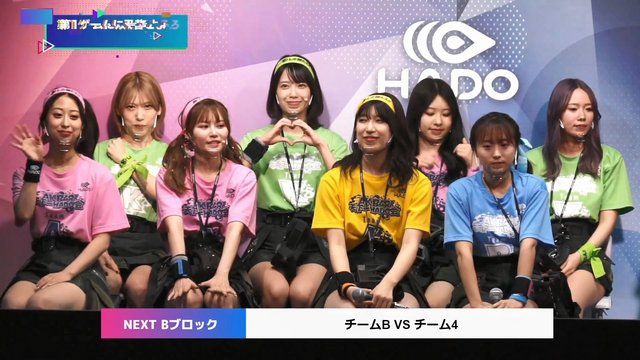 221020 AKB48 HADO Championships Season 2 Day 2.mp4
Size: 7.03 GB | Duration: 02:42:59 | Video: 1920×1080, Bit rate: 5999 Kbps, 30.000 fps | Audio: 160 Kbps, 48 Khz

ALFAFILE
221020.AKB48.HADO.part1.rar
221020.AKB48.HADO.part2.rar
221020.AKB48.HADO.part3.rar
221020.AKB48.HADO.part4.rar
221020.AKB48.HADO.part5.rar
221020.AKB48.HADO.part6.rar
221020.AKB48.HADO.part7.rar
221020.AKB48.HADO.part8.rar
ALFAFILE
Participants:
Team A: Komiyama Haruka, Nakanishi Chiyori, Yoshihashi Yuzuka
Team K: Oda Erina, Mogi Shinobu, Hattori Yuna
Team B: Hidaritomo Ayaka, Sakaguchi Nagisa, Yamada Kyoka
Team 4: Kuranoo Narumi, Yoshida Karen, Kawahara Misaki
Team Kenkyuusei: Kohama Kokone, Hashimoto Eriko, Masai Mayuu
221011 AKB48 HADO Championships Event Season 2 #1.mp4
Size: 2.07 GB | Duration: 02:59:34 | Video: 1920×1080, Bit rate: 1473 Kbps, 30.000 fps | Audio: 163 Kbps, 48 Khz
ALFAFILE
221011.Championships.Event.part1.rar
221011.Championships.Event.part2.rar
221011.Championships.Event.part3.rar
ALFAFILE
221027 AKB48 HADO Championships Event Season 2 #3.mp4
Size: 1.05 GB | Duration: 02:40:27 | Video: 1920×1080, Bit rate: 2370 Kbps, 30.000 fps | Audio: 128 Kbps, 44 Khz
ALFAFILE
221027.Championships.Event.part1.rar
221027.Championships.Event.part2.rar
221027.Championships.Event.part3.rar
ALFAFILE
The first day of the second season of AKB48 Hado championship.

The system is the same as in the first season, travel for the team who wins, punishment for the team who rank at 4th place (usually super hyper shameful moe-phrase).

At the end of the season, the team with most point will win the final price which is unknown.